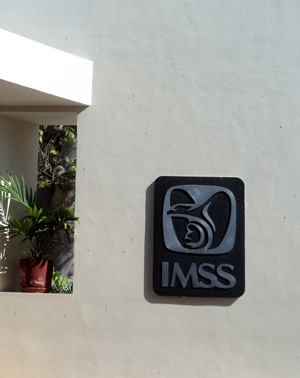 IMSS (Social Security) – Voluntary Affiliation
As an expatriate, living in Mexico, you can purchase health insurance from the government. This is called a voluntary affiliation with IMSS (Instituto Mexicano de Seguridad Social) and it is a yearly affiliation that is open to certain age groups. Your ability to purchase this kind of health insurance may be limited depending on your pre-existing conditions.
The costs of IMSS insurance for 2012 are below and are based on which age group you fall into:
Age: Cost in MXN
0-19: $ 1,371.25 pesos
20-39: $ 1,602.60 pesos
40-59: $ 2,395.40 pesos
60 or more: $ 3,604.70 pesos
IMSS Insurance Facts and Details
Here are a few facts about IMSS health insurance that it is important to know before you get started.
•The affiliation is normally done as a couple or a family. If you are on your own and do not have another family member to sign up with you for the IMSS health insurance, you will be required to state that you are signing up alone. They will require a letter (in Spanish) that is signed by you.
•The IMSS health insurance benefits start on the first day of the following month after you sign up for your affiliation.
•In the first year you can only receive the benefit of doctor's visits. Beginning in the second year, you will be eligible to receive medical attention as well as any required surgery, medicine supplies and admission to the hospital.
•In order to obtain the IMSS medical insurance, you will have to fill out a medical questionnaire with personal information.
•If you have any of the following medical conditions, you will not be eligible for IMSS health insurance:
Allergy or asthma
Chronic diseases of the blood
Cancer or tumors
Diabetes mellitus with:

Renal failure
Retinophaty
Neuropathy

Peripheral circulatory failure
Heart diseases
Liver diseases
Nervous disorders or chronic psychiatric issues
High blood pressure
Rheumatism or arthritis
Tuberculosis
Stomach ulcer
AIDS or HIV positive status
Congenital diseases (from birth)
Chronic bronchitis
Vascular incidents or strokes
Deformation or movement limitations by accidents or diseases
Alcohol addiction
Toxic substance addiction
As you can see, there are quite a few medical conditions which could disqualify you for IMSS eligibility. If you have questions, of course, the only way to find out is to apply and let the IMSS organization evaluate your individual case.
If you think IMSS health insurance is the option for you, these are the steps to follow in Merida, Yucatan to obtain your IMSS affiliation.
Documents for IMSS Application
This is the list of documents you need to gather together and bring to the IMSS offices when you apply. Be sure to bring both the original document and at least one copy (maybe two, to be sure):
Birth certificate (if it is not in Spanish, it will need to be translated by a certified translator. There are only a few certified translators in the Merida area.)
Passport
FM3 or FM2
CURP (Clave Única de Registro de Población)
Comprabante, or proof of your legal address in Yucatan. This is a phone, water or CFE bill that is less than two months old and shows your current legal address. It does NOT have to have your name on it, only the address of where you reside.
If you are applying as a married couple, you will need to provide your marriage certificate. If this certificate is not in Spanish, it will also need to be officially translated.
4 black and white photos, infant size (the size is called infantil, and is 2.5 x 3 cm)
Applying at the IMSS Office
There are two offices in Merida where you can file. The proper office for you to file for IMSS health insurance is based on where you live in the Merida.
La Ceiba: (You are eligible if you live north of Merida or in downtown Merida but we recommend that you call first, just to make sure).
Address: Avenue 7 between 38 and 40 # 131 Pensiones. Phone: 925.7918
42 Sur: (You are eligible at this office if you live in Progreso or any of the other beach towns, but again, we recommend that you call first, just to make sure).
Address: Street 131 x 42 Sur. Phone: 940.3782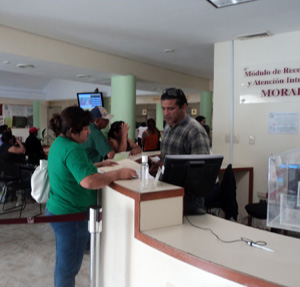 IMSS offices open at 8 AM and applications are not accepted after 2 PM. As with most government offices, it is always a good idea to start early, because the offices can get crowded. This is also a good idea it is common that you may be asked to provide something you did not think to bring with you. If you go early, you will still have time to get the missing document and return before the offices close.
IMSS Application Procedure
When you first enter the offices, you will need to show someone at the registration desk all the documents that you brought with you in order to obtain your Affiliación Voluntaria. After reviewing your documents, if he determines that you have what you need, the man at the desk will give you a ticket with a number. Have a seat! You will probably wait awhile to have your number called. There are usually plenty of seats and the offices are air conditioned.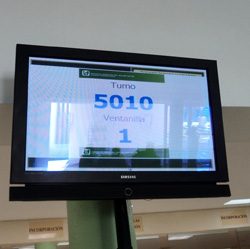 Your number will be called through a digital screen. When you see your number on the screen, proceed to Window Seven where your documents will again be reviewed. At this point, be sure that your original documents are returned to you, even if they keep the copies. If your documents are correct, this person will give you a receipt. This is a paper that you must take with you to a bank to pay the annual fees. Instructions are on the paper for the bank regarding the account, so just hand the receipt to the bank teller with your payment. The bank teller will give you a proof of payment, which you will need to give to the IMSS official when you return.
The recognized banks that accept IMSS health insurance payments are Banamex, Scotiabank and HSBC and you can pay at any branch.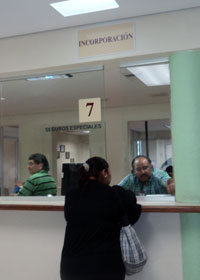 After you have made the payment, return to the IMSS office and give the receipt with a copy to the person at Window Seven. There are copy stores in front of both IMSS´s offices, so be sure to go there first and make your copies before you go back to IMSS.
Getting the Carnet
Once you give the IMSS officer the receipt for your payment (and the copy), you will be provided with a carnet and the address of your assigned clinic, as well as any other papers that you need to present at that clinic. You are required to go to your clinic within a month of receiving your affiliation status.
Going to Your IMSS Clinic
A month after you received your carnet , you must go to your clinic to complete the process. There are two activities that must be completed here:
Get your office number and schedule
Inside the clinic go to Window number one, which is called Archivo. The person at that window will ask to see your carnet and will give you an appointment to see your doctor. You will at this time be assigned a doctor's office which will be your doctor for the length of your affiliation.
Get your ADIMSS card.
When you finish at Window number one, you need to go the ADIMSS office. Ask the person at Window one where that office is located, as it is different in each clinic.
Once you are at the ADIMSS office, you will need to provide the following documents, both a copy and the original:
Passport
FM2 / FM3
Comprabante (see above for definition)
CURP
Carnet
Give all these documents to the person at the ADIMSS office. The person in that office will then take your picture and your fingerprints. After no more than 20 minutes, your official IMSS ID card will be ready, and that is the end of the IMSS health insurance sign-up process. You are now an IMSS affiliated!
If these steps have overwhelmed you, if you don't speak any Spanish or if you would just like someone who has done this many times before to help you through the process, please contact us via e-mail: info@yucatanyes.com or call us at the number below. We´d be happy to assist you!