Tenencia is the Mexican equivalent of automobile registration in the United States. It is due yearly and the amount is based on the purchase price of your car and the age of your car. Thus each year, the tenencia amount will be calculated and you must pay it to be in compliance with the law.
New Tenencia Law
You will not receive an invoice or notification of how much is due. You can either go to one of the SPV (Secretaria Policia Vehicular) locations or you can go to this website (https://srvshyweb.yucatan.gob.mx ) to find out the amount of your tenencia. You will need your license number and the VIN number of the car in order to get the report of how much tenencia you owe.
According to a new law introduced by the State Government of Yucatán and effective January 3rd 2011, individuals that purchase automobiles in the year 2011 with an invoice value of less than $300,000 pesos will not have to pay tenencia this year.
Previous Year Purchases
What about automobiles purchased in previous years? In Mexico, cars that are over ten years old do not pay tenencia. If you own a more recent vehicle, check the chart below, look for the year of your vehicle and if the invoice value is less than the price in the chart, you will not have to pay tenencia either: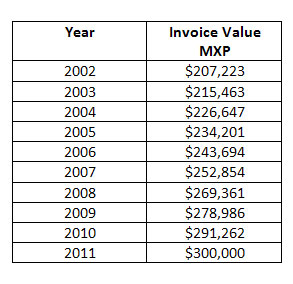 If you are one of the lucky individuals who is exempt from paying the tenencia, you must still follow these easy steps to avoid paying the tenencia fee. But hurry! You only have until the end of March to do this!
A Few Easy Steps
The following steps are what you will need to do to validate for the State Authorities that your car is from a particular year and was purchased at a particular price:
Visit the nearest Ventanilla Única Municipal (follow this link to find the location nearest you. The main office is behind the Parque de La Paz in the old jail):  www.merida.gob.mx/ventanilla/ubicacion.htm
Present the following documents:
Copy of  your tarjeta de circulación of the vehicle
Copy of your passport and your valid FM3/FM2
If you plan to send someone else to register your car, you must give them a short Carta de Poder (Power of Attorney Letter) with your signature. They must also bring their identification (license, passport or voting card).
At the location of your choice, you may just wait in line to present your documents, or you may need to take a ticket from the box that says "Tome su turno" (Take your turn):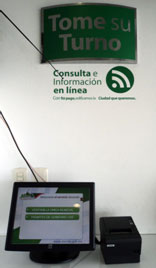 On the computer screen under the sign, you will see two options. Choose the second option, Trámites de Gobierno USE.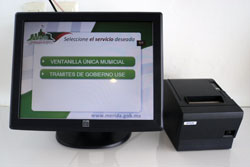 You will get a ticket like this one, which will assign you a number for your turn: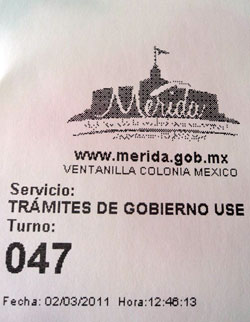 When your number is called,  walk up to the ventanilla, as pictured here: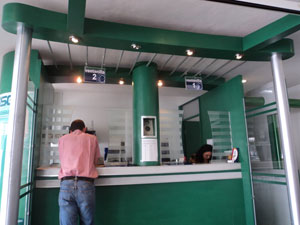 You should present the person at the ventanilla with the documents listed above. If you don't remember your license plate number (placa), you can find them in the tarjeta de circulación.  When you are finished, you will be presented with an official receipt. Your receipt will look like this: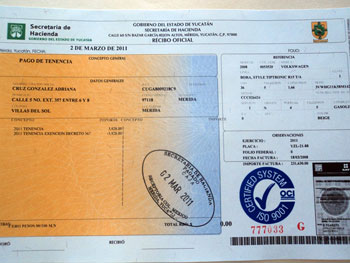 This is the only document you will be given, and you will use it to prove that you have paid your tenencia for 2011. You should keep it or a copy of it in your car.
Tenecia from 2010
This procedure costs nothing, but you must complete the procedure in order for your tenencia to be considered paid for 2011. If you owe tenencia from previous years, you must pay those AND do this procedure before March 31st in order to get the tenencia exemption.
These instructions and a little bit of Spanish should be enough to help you complete this procedure. If you need assistance for this or any other government procedure here in the Yucatan, feel free to contact the staff of YES at info@yucatanyes.com or call us at 999-927-2437.