As an expatriate living in Mexico, you don't necessarily need to buy your health insurance from a Mexican insurance company. There are a handful of companies now that sell health insurance specifically to US expatriates living anywhere in the world, some of whom are licensed Expat Insurance Specialists. The policies that they sell are tailored specifically to expatriates, allowing them to obtain covered healthcare services anywhere in the world, including in the United States or Canada. The agents can also work with you to obtain coverage for some pre-existing conditions and for helicopter evacuation in case of an emergency that the patient only wants treated in a United States facility.
If you come from the USA or Canada, the first choice to make in buying expat-specific health insurance is whether or not you want to be covered in your home country.
Premium Differences with or without US/Canada coverage
Here is an example of the difference in cost between those two options: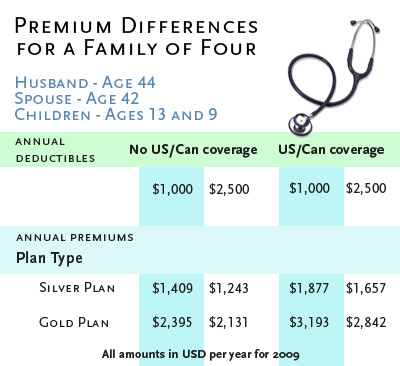 Some policies also offer coverage of preventative healthcare services; some have waiting periods before they will cover pregnancy.
How They Pay
These healthcare policies are generally modeled after healthcare insurance in the United States, and so they are structured with an annual deductible. Because the expenses could happen anywhere in the world, these policies are almost always paid on a reimbursement basis (the insurance company reimburses the insured after receipts for payment are submitted).
That's Not All
This is just one of the options for healthcare insurance now available in Mexico. The subject of healthcare insurance is covered at great length and in great detail in the YES Personal Insurance Guide. The discussion of healthcare insurance covers everything from a thorough explanation of IMSS, Mexico's Social Security, and how and where to obtain it, as well as how Mexican private healthcare insurance works and is obtained. The guide also covers auto insurance, life insurance and home insurance, and can be purchased at our Knowledge Store.